Here you will find my articles and materials which pertain directly to the Latin classroom.
Theory (links to other teachers' writings):
The Inclusive Latin Classroom. A new blog created by Latin teachers who have made inclusive practices a priority.
Error Traps. Lance Piantaggini's criticism of traditional assessments.
Related to the above: What's the Point of Assessment? from Edutopia
Related to both of the above: Do No Harm: Flexible and Smart Grading Practices, also from Edutopia
Comprehensible Input, introduction for Latin teachers, with resources
Theory and research supporting CI practices
Bill Van Patten presents his thoughts on second language acquisition
Teaching Latin to Humans, by Justin Slocum Bailey
Building your own Latin Proficiency:
Although you don't have to be fluent in Latin in order to conduct your classes in Latin, practicing your active Latin skills will help your confidence level in the classroom. There are many opportunities to listen to spoken Latin and even to interact online with others who speak Latin. Also, many Latinists are using Google Hangouts, Skype, etc., to connect online.
Websites, videos and podcasts for listening to spoken Latin
Spoken Latin workshops in the USA
[coming soon–for now please visit SALVI at www.latin.org]
Classroom practices and activities:
Videos of Latin teachers in their classrooms
It really helps to see other teachers in action, using Latin.
Description of the first weeks in a CI Latin classroom
How to approach grammar in a CI Latin classroom
Classroom Rules and Expectations (including poster text and rubric)
How and Why I use Quizlet in my Classes
Movie Talk Description and Resources
Spot Check Translation. How I cultivate traditional written translation skills in a CI classroom.
List of student pair activities
Story Work Choices
incorporating a variety of activities–good for a sub day, or when you have to meet with students one-on-one
Latin myth Storybook presentation project
Writing portfolio (what to do with all those timed writes, etc)
Cubus Rubicus: an interactive unit using Rubik's cube [coming soon]
here's another teacher's helpful blog post on classroom jobs
Here is my day-by-day observation of Bob Patrick's classroom from back in 2006. Still very useful for getting a sense of what a CI transitional classroom looks and feels like.
Materials for the Classroom: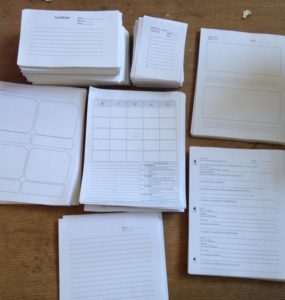 Links to online Latin readings for students
List of Novels for the Latin classroom
Classroom Latin phrases, commands
Colloquial Latin high-frequency vocabulary list.
Information for Parents: see my parent page
Youtube videos in which I explain texts, in Latin and in English
Emergency sub plans, activities, and ideas [coming soon]
storybook project and presentation, which also generates SSR/FVR materials
Easy Latin readings, powerpoints, and lesson plans based on TPRS strategies, story scripts, and adapted textbook readings [coming soon]
Support from other websites:
Super-useful links for Latin teachers :
1. Keith Toda's list of classroom activities
2. Lance Piantaggini's CI resource page
3. Bob Patrick's article "Making Sense of Comprehensible Input in the Latin Classroom." Complete description of what he does, with links to research and clips of him teaching. 29 page pdf.
http://tcl.camws.org/sites/default/files/TCL%20Spring%202015%20Patrick_0.pdf