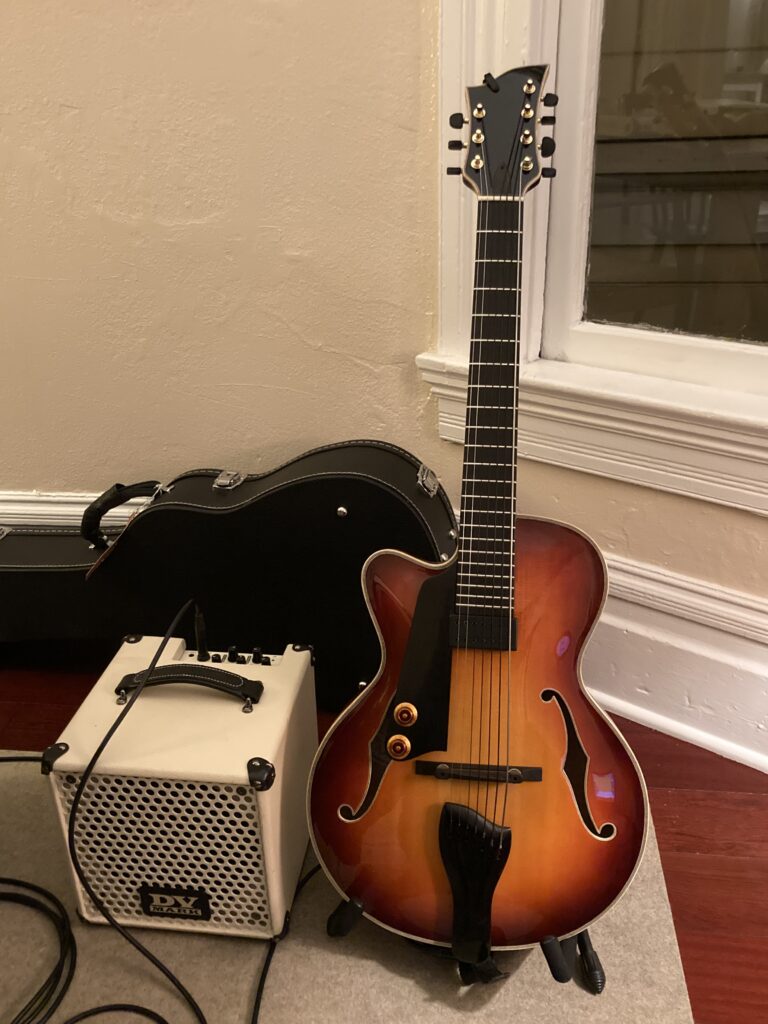 (more photos below)
This 7 string hollow solid wood archtop is handmade by Mr Wu, who started making archtops for Eastman, following Benedetto's method. He later opened his own shop, and makes custom hand-carved archtops to order (yolandateam.com).
It is a hollow body thinline design, with x-bracing, and a floating Kent Armstrong hand-wound adjustable 14-pole humbucking pickup mounted to the pickguard. Although this is a solid top acoustic archtop, my original intent was to have a sunken humbucker design, emulating the classic tone of Joe Pass, Jim Hall, Kenny Burrell, etc. The X-bracing prevented this, so I chose the Kent Armstrong floater because he designed it to sound more like a sunken pickup.
The guitar has a shorter scale length (14.75"), in line with the Ibanez production models, and 50 mm width at the nut. Ebony fretboard, solid spruce top and back, maple sides. Some complain that a short scale length won't allow for the right intonation with a low A string, but so far I haven't had a problem (see below for string choices)
Because they didn't have any production metal tailpieces in lefty, the ebony tailpiece was carved by Mr Wu, and is attached with a metal bracket. My local luthier fashioned a metal plate on the back of the tailpiece, to ground the strings to the rest of the electronics–this is essential, otherwise it picks up a lot of noise!
Hardware: I have kept the Wilkinson tuning machines, which seem to work okay, though not quite as nicely as the grover/gotoh tuners I have on other guitars. All other hardware, wiring and pots, cord jack, etc. I had replaced locally with equipment that is worthy of this handmade guitar. The Gibson-style knobs are reverse numbered (lefty!) and have a finish that matches the burst color.
Color: I wanted a light, almost honey burst color scheme. I sent them a picture from their own website of a color scheme I liked, since it is something I know they could do. It has a subtle red tone that comes out in natural daylight, but is muted indoors.
The headstock shape is a nod to the first production 7-string archtop, made by Gretsch under the guidance of George Van Eps (see pic below). Bucky Pizzarelli used this model guitar to develop his unique take on 7-string chord melody throughout the 1970's, before his involvement with Benedetto guitars in the early 1980's.
Van Eps Gretsch 7 string production archtop: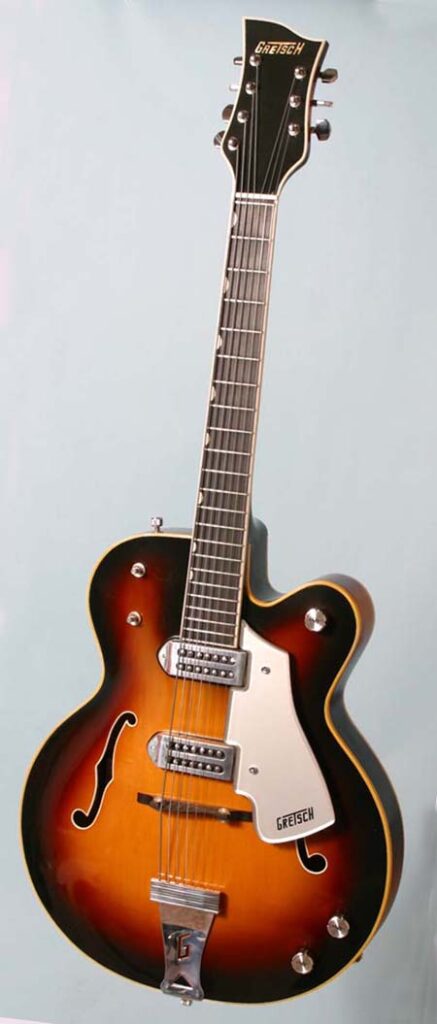 Strings: I use LaBella Jazz tapes (light gauge), which give a uniquely rich sound, while retaining a low tension and ease of playing. I use the lightweight (12-56) 6-string set, with a D'Addario Chrome flatwound  CG075 XL .075 for the low A string. The LaBella 7-string set is heavier gauge, which would have higher tension (though not much, according to users), and the thicker diameter low strings would require more drilling of the nut, tailpiece, and tuning pegs. I play fingerstyle with very low action, which has less impact on the possible intonation problems of a low A on a 24.75″ scale
Amplifier: I currently play through a DV Mark Little Jazz amplifier. It is an inexpensive and portable way to achieve a classic jazz tone, somewhat similar to a Polytone. In fact, playing outdoors recently, I swear I had achieved the exact same tone (tone only, not playing!) as Joe Pass on his duet album with Zoot Sims (Blues For Two, 1981, released on Pablo in 1991). Despite the 8″ speaker, it is loud enough to take to a gig with a drummer. Any amplifier that sounds better than this, will cost 3 times as much. At work I plug into a 1980's Fender Sidekick 10, made in Japan, which has a surprisingly nice tone for what is basically a practice amp.
I plan to post more links about the process of ordering a Wu. The forum on jazzguitar.be has a lot of helpful information about this process, from satisfied customers, so be sure to visit, or google search "jazzguitar" and "Wu"
Detailed pics:
These first two in natural light, to show the subtle reds in the burst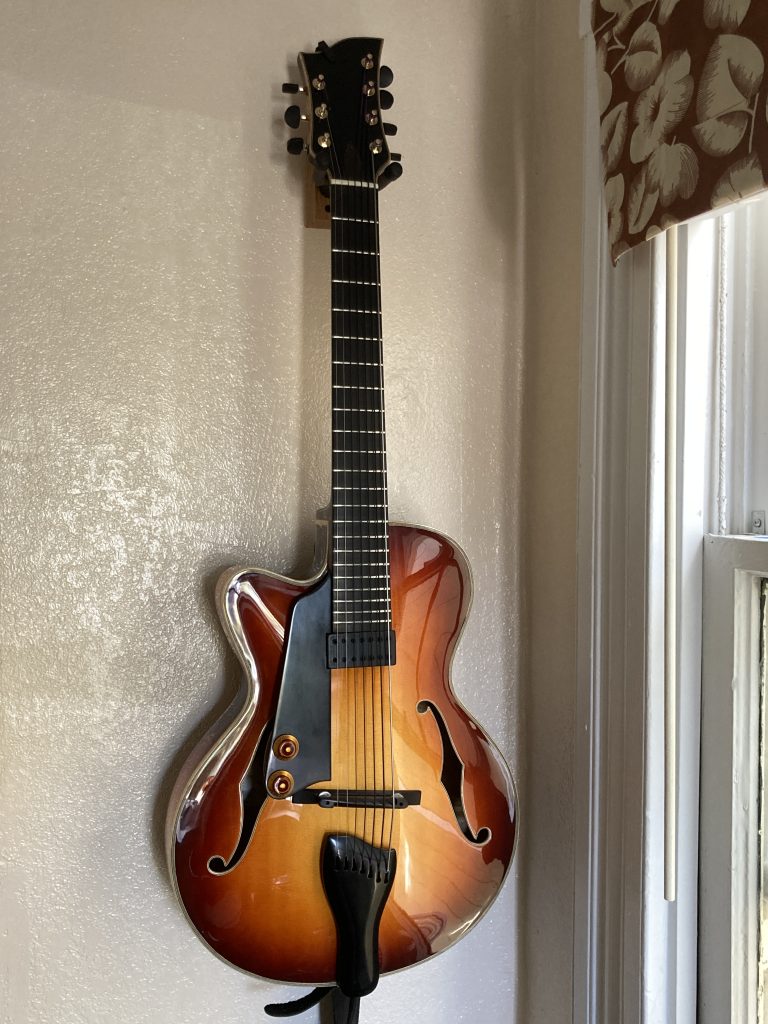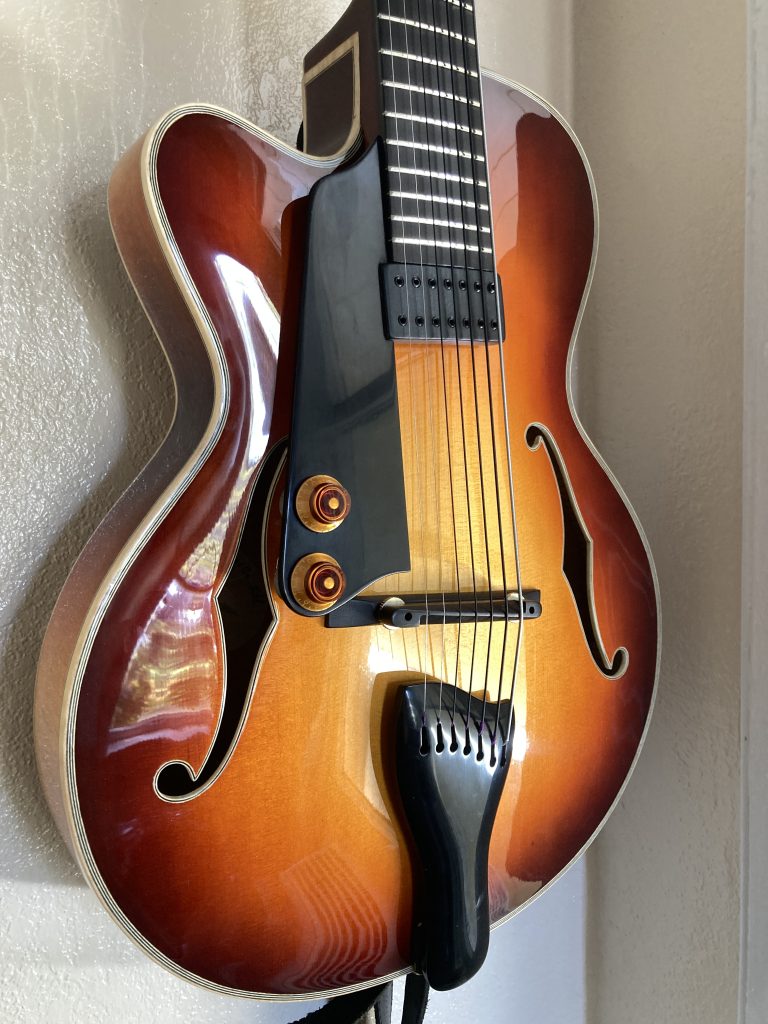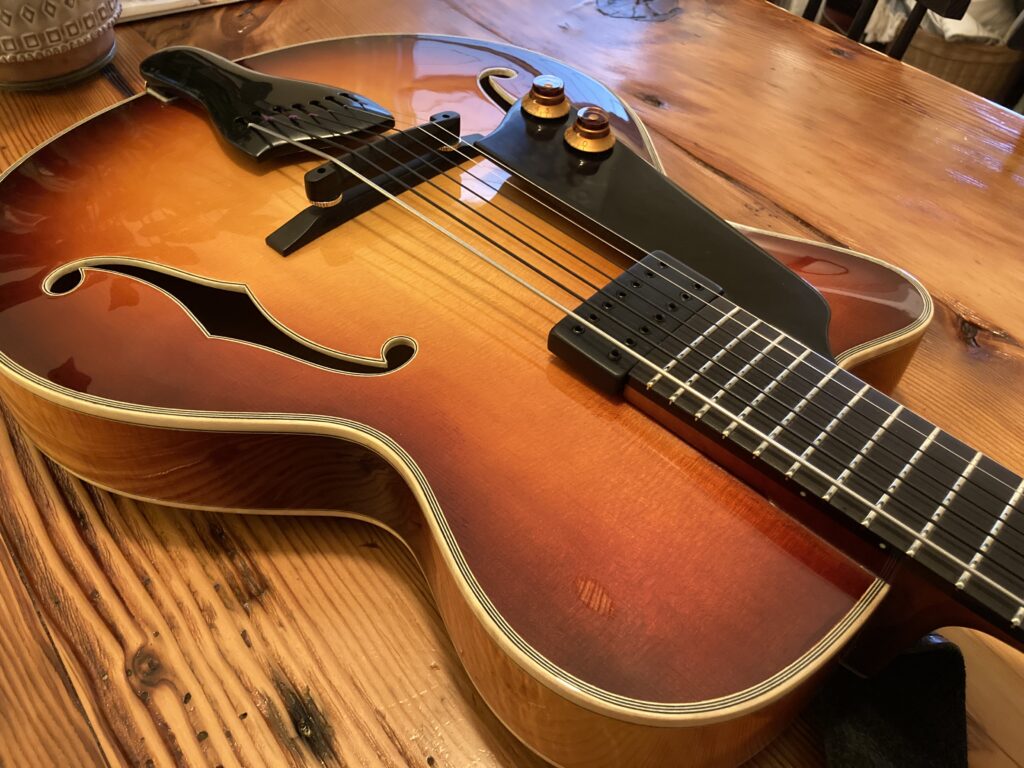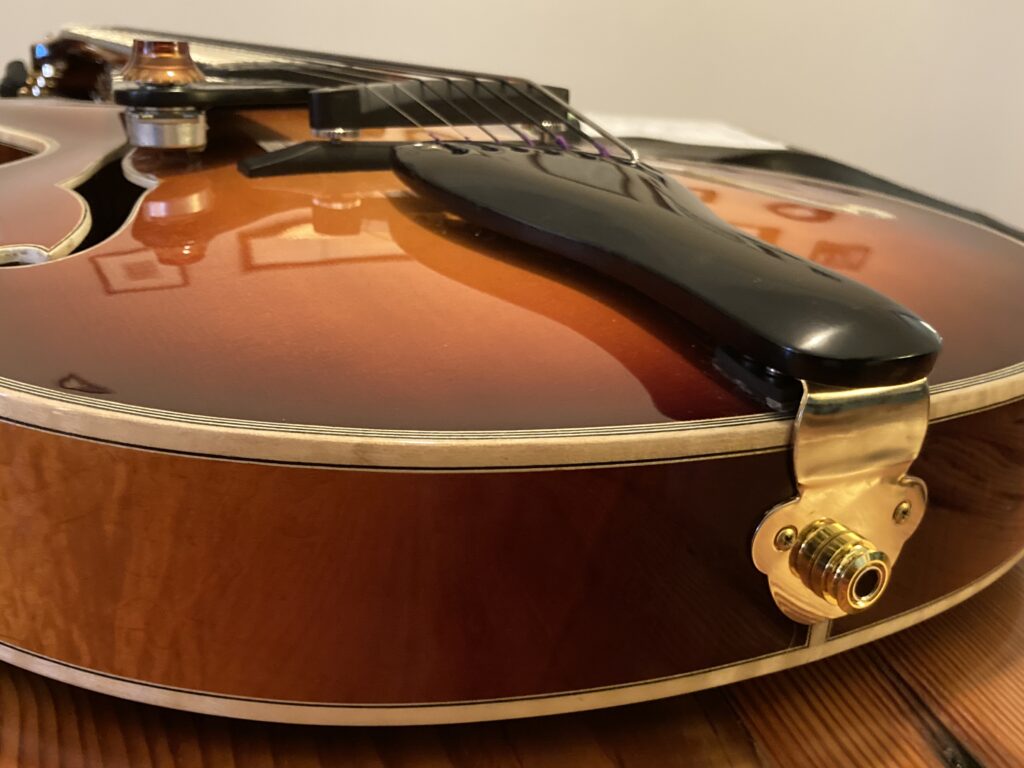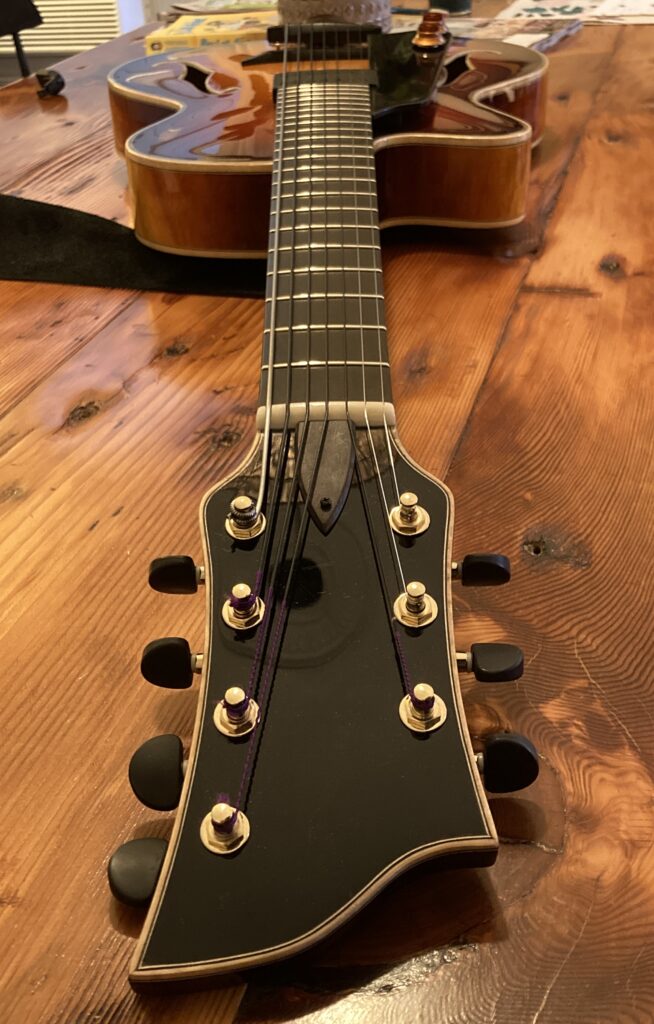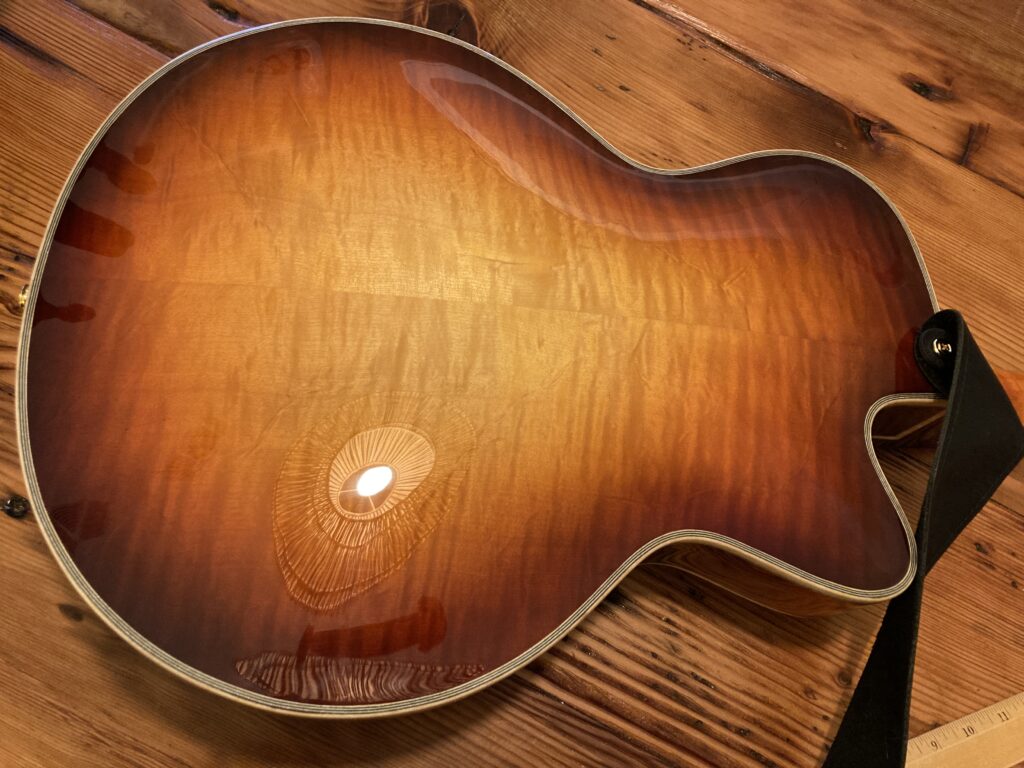 This doc contains pictures and drawings from the beginning of the process.
This page is all about Bucky Pizzarelli's fingerstyle playing, which inspired my own 7-string journey