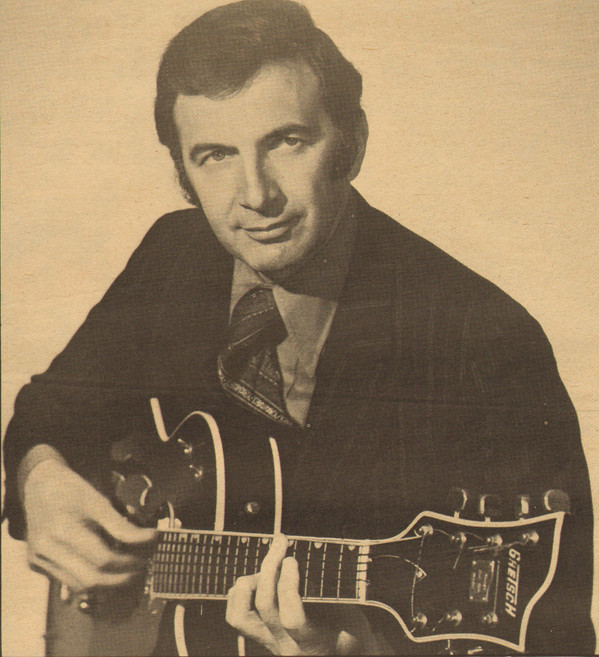 Bucky Pizzarelli is one of the pioneers of modern jazz, swing, and popular guitar, having been an active part of the recording, broadcasting, and entertainment industries from the 1940's until his death in 2020. Among his many innovations and talents, were his contributions to the popular solo guitar style known as "chord melody." He developed his version initially as a fingerstyle technique, following the example of George Van Eps, who had introduced a production Gretsch 7-string guitar in the late 1960's (pictured above). It was with with George Barnes that Pizzarelli started playing this unique style on recordings (first accompanying others, then with solo tunes thrown in). Here I have collected recordings made by Bucky between 1971-78, in which he was playing solo and accompaniment fingerstyle on his Gretsch. 1972 saw the release of three albums featuring Bucky playing in this style, and 4 solo tracks in total appear on these albums. In the late 70's, he switched to a pick/thumb because of a hand injury, and soon after recorded the brilliant Love Songs album. Although I think Love Songs is his greatest solo album (and perhaps THE greatest solo jazz guitar album), personally I'm really interested in his fingerpicking style. Those who wonder what Love Songs might have sounded like had he played fingerstyle, can compare the solo tracks on the 1970's recordings with his later thumb/plectrum interpretations of some of the same songs. I believe he played his Gretsch on all of these recordings, and did not switch to a Benedetto until after he had committed to thumb/plectrum playing. Below you will find links to all known recordings in which Bucky is playing fingerstyle, either solo or duo.
Note on the audio quality: I have posted links to YouTube, simply because it is the one platform that contains the most albums and tracks, and anyone can access them for free. Some of these albums are available on Spotify and iTunes, or on other streaming services (e.g. the live 1977 session). Some albums are LP releases which never made it to CD. If you want the best sound quality, purchasing the CD or LP is the way to go.
This project started as a Spotify playlist. Unfortunately, many of these recordings are not on Spotify, but I have compiled the available examples
https://open.spotify.com/playlist/4Gh5J2zYV7QEe5HctwHqok?si=3a17e84955b84e62
(links will be added and updated as I find them. Please send additional info if you have any)
Guitars Pure and Honest (1971, LP only), with George Barnes. Legend has it that Bucky went over to Barnes's studio shortly after acquiring the Gretch 7 string, and they were both extremely happy with the combination. This album is the result of that early partnership.
https://www.youtube.com/watch?v=EeYP_rvFTTc&t=330s
Tonight Show with Johnny Carson, June/17/1971, Barnes and Bucky are the featured musical guest. I can't find a clip of this online.
The Guitar album (1972, LP only), with George Barnes. Barnes and Pizzarelli are featured on only one track from this album. It is a Beatles medley. Bucky plays Eleanor Rigby solo, then they segue into a duo rendition of Here, There and Everywhere.
https://www.youtube.com/watch?v=klxRpl_hnek
Green Guitar Blues (1972). Perhaps best known as a trio album (often combined with a second trio album "Cafe Pierre Trio"), he records three tracks solo, plus a medley that begins with a solo rendition of "Cry Me A River"). They are beautifully played and well-recorded, to exploit the full range of the 7 string guitar.
https://youtube.com/playlist?list=PLR_u6nw9LLObWhTeIy03sBIzw8cvVZ6tY
Blue Bossa (1972), with Eddie Daniels.
Bucky provides solid accompaniment, on classical as well as 7 string archtop. He records one solo track on this album, Two For The Road.
https://youtube.com/playlist?list=OLAK5uy_kwUTntTq0aGBceB9yHpZJMIKntlT2zPYE
Nirvana (1974) (aka Somebody Loves Me, or Send in The Clowns), with Zoot Sims.
Three tracks really shine on this album, the first two being Come Rain or Come Shine, and Memories of You. Both are duets, and Bucky doesn't take a solo on either of them. His accompaniments are masterful.
His beautiful solo rendition of Send In The Clowns is also an excellent example of what Bucky does best: Takes the more cerebral example of Ted Greene, and makes it into something that non-guitarists as well as guitarists can enjoy.
https://youtube.com/playlist?list=PL0q2VleZJVEkImTq4Aq5Am9-nw08tnURl
Bucky and Bud (1976, LP only, low quality transfer on youtube), with Bud Freeman. Not a duo album, but about half the album is played duo, with full rhythm section songs between: see Easy To Love, I could Write a Book, You Took Advantage of Me, Exactly Like You, and Dinah.
https://www.youtube.com/watch?v=LdfmirjP7bc&t=1400s
First Time Out (1976), with Warren Vache. A few tracks sound like they are played thumb/pick. Perhaps he was starting to make the switch?
https://youtube.com/playlist?list=OLAK5uy_lHAX4zpzDnS_LHANHSAe67Io2TgLXBUUI
Zoot Sims Live (June 10, 1977, 2 sets, streaming only) live at the Great American Music Hall in San Francisco (online only, via the Bill Graham archives). Beautiful solo and duo tracks can be found on this album, Even though live, with a few buried treasures. Bucky's solo playing on this date is excellent. In set 2, "Slow Burning" is actually 3 solo tunes in a row (Slow Burning, Tangerine, and The Very Thought of You).
(note: this is a streaming platform, which requires a subscription to play the whole session through. But, if you click on an individual track, it will play the whole track, then you can click on the next one)
(set 1)
https://www.wolfgangs.com/music/zoot-sims/audio/20054215-51272.html?tid=4900143
(set 2)
https://www.wolfgangs.com/music/zoot-sims/audio/20054216-51272.html?tid=45973
Zoot Sims, Live in Japan, 1977, 2 vols. (various tracks on Youtube)
Also, "Live in Yamagata" also 1977. Various tracks available on YouTube: e.g. The Very Thought of You, duet with Zoot on Soprano
https://www.youtube.com/watch?v=bMSGviT05es
Doug and Bucky (1978), with Doug Jernigan on pedal steel.
Bucky plays quite a few solo tunes on this album (Slow Burning, End of a Love Affair, Round Midnight), and it is instructive to compare these to his later thumb/pick recordings of the same songs. The CD transfer quality is lacking, and I'd be curious to know if the original LP sounds better.
https://youtube.com/playlist?list=OLAK5uy_nMgtiMjfghucZ5vhYq0kNM7mVXhDgCIBQ
Live in Nice, France, (1978). Invitation, duet with Lee Konitz. Notice here how Bucky starts and ends the song with a pick, but plays fingerstyle during the comping and his brief solo.
https://www.youtube.com/watch?v=cwA4hO5UpjY
(Note: In this same concert, he plays The Very Thought of You entirely with a pick. The previous year, 1977, he played an almost identical arrangement fingerstyle at the San Francisco concert with Zoot Sims (linked above)
Special thanks to Edward Decker for details, and for inspiring me to learn more about Bucky's life, teaching, and playing. His book of transcriptions, and Youtube videos are the best tools for emulating Bucky's technique.
NEXT STEPS in solo improvisation (work in progress):
Soon after adopting a pick full-time, Bucky began to develop a new improvisational approach to solo guitar. This may develop into a separate page, but in the meantime, I will list a few examples of this approach, as I study them and try to emulate this in my own playing.
In a nutshell, it consists of using specific chord shapes that free up fingers to either explore chromatic movement, or additional chord tones and passing notes. He is not interested in extended single note lines (Joe Pass), but limits his improvisations to one or two bars, even while a chord is still ringing, or moving to the next chord. This is not necessarily unique for solo guitar, but Bucky's use of this technique is. He seems to have borrowed some of this from earlier players, such as (Carl Kress?) who used such chromatic movement in their signature arrangements.
The End of a Love Affair. By examining three versions of this song, one can see a development of Bucky's approach to improvising over the changes within a solo arrangement. Let's proceed chronologically:
1976, from Doug & Bucky
1986, from Solo Flight
1999, from April Kisses
Smoke Gets In Your Eyes (Love Songs 1980, and April Kisses 1999)
This is an interesting comparison, because on the early version, he does not improvise beyond the melody, but on the later version, he employs his improvisatory technique over almost an entire chorus.
Here are some other examples of this approach to improvisation:
Blues Chromatique (Green Guitar Blues, 1972)
Slow Burning, and A Blues Serenade, on One Morning in May (2001, Arboris)
Come Sunday (April Kisses)