Never worry about Mondays again. No more anxious Sunday nights. Here's what I do EVERY Monday in every level: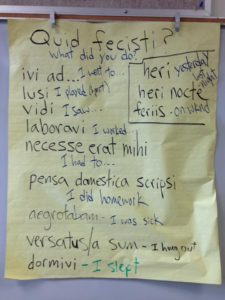 1.Students quietly write for the first 5 mins. responding to "Quid fecisti?" (idea from Chris Stolz, adapted further by Lance Piantaggini. I have options and sentence starters on the wall, responses can be real or imagined). I have my Latin 1's write this in the Monday box of their Weekly Packet. Latin 2 and 3 write on a half sheet that I collect afterward. My Latin 1/s do this in English for the first month, and I encourage them to use Latin, but not required. It's more about getting to know each other.
2. Greeting (salvete omnes / salve magister.)
3. Date and weather (I say, they repeat)
4. Students turn to a neighbor and talk in Latin about what they did this weekend
5. I say what I did on the weekend, and ask students to tell me what I just said (in English).
6. I call on students (or ask for volunteers) to tell me what they did over the weekend.
7. I hand out the song of the week. We look at it, I clarify meaning, address pronunciation, then we practice, once or twice. We will sing it after the greeting/date every day this week. Part of our opening routine.
8. Any announcements, housekeeping, etc.
9 (optional, if there is time), continue with the reading activity from last week, or introduce a new unit.
10. (if time) finish class with a Write and Discuss with weekend highlights.
That's it, Every level, every Monday. My school has late start and shorter periods, but I bet you could take up a full period doing this.
It is Sunday afternoon as I write this. I am spending some time fretting about what I will do this week, but I'm not fretting about tomorrow morning, and that's a huge relief.
Resources:
Weekend Talk poster, letter size
formatted to print as a larger poster
Quizlet set containing weekend talk words and phrases
Youtube playlist: tutorials for basic conversation in the classroom, including weekend talk